Patrick Donnelly
BA (Hons) Architecture
'The Lake District is renowned for its picturesque landscapes and distinct cultural identity as a cornerstone of British Romanticism and the Arts. Poets such as Wordsworth, and Artists such as Ruskin celebrated the environment and condemned the industrialisation which was quickly taking hold of 19th Century Britain.
The new Learning Centre is proposed to bring this 19th century Arts and Craft spirit and ethos into the 21st century. Acting as both a Museum (celebrating the local Artistic cultural heritage of the area) as well as a Research centre and 'Factory' of sorts, where people can use 21st century design and manufacturing techniques to fabricate new digital Arts and Crafts products. The scheme aims to create work for people living in Windermere, as well as to attract researchers, academics and leaders in the field of 'Digital Craft' the world over. It will also harbour links to Lancaster University, offering seminar spaces and a unique place to experiment and learn.'
Old meets New upon the Historic site of Fell Foot park.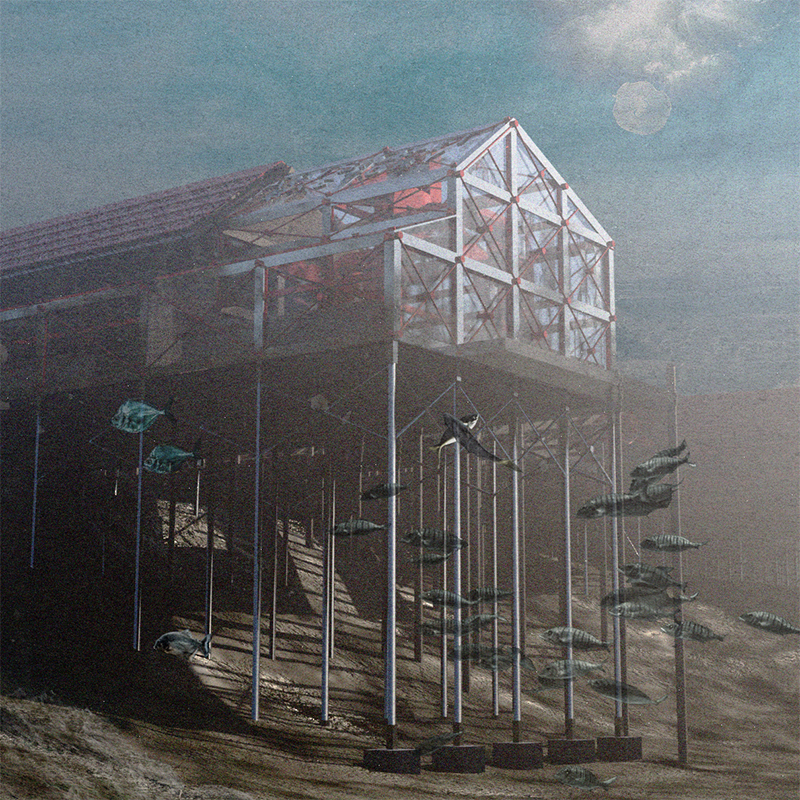 The stainless-steel structure is exposed beneath the surface of the Lake.
Early morning golden hour illuminates a scenic view through the trees.
Arts and Technology combine to create the Arts and Crafts Factory.