Katie Phillips
BA (Hons) Architecture
'Throughout this and all my projects, sustainability and contextual sensitivity have been driving themes. I want to use architecture as an empowering tool to fight the climate emergency by utilising innovative technologies whilst raising public awareness of everyday changes that can be made to push the potential of our existing infrastructure.
Tourism in the Lake District has a strong link to its ecological degradation. The Romantics first made the Lakes a desirable destination through beautiful paintings and poetry, so this Learning Centre aims to re-paint this image, exposing the damages done by tourism whilst facilitating changes. Challenging current public perceptions of the Lakes, and research facilitating the evolving public education strategies will take place in the Learning Centre. The timer-framed building, inspired by the bismuth crystal, a mineral mined in the Lakes, sits on the site of an old villa, providing a focal point to Fell Foot. A solar façade generates energy for the site, as well as ground source heat pumps below the car parks and next to the building. A wider Masterplan implements sustainable travel throughout the Lakes, including E-bike hire and drop off points, a wide-reaching Park and Ride system and new bike lanes.'
The Learning Centre situated on the Old Villa Lawn, surrounded by trees and with landscaping that mimics its form and growth within the site.
Exploration of how the Learning Centre interacts with the landscaping of the site.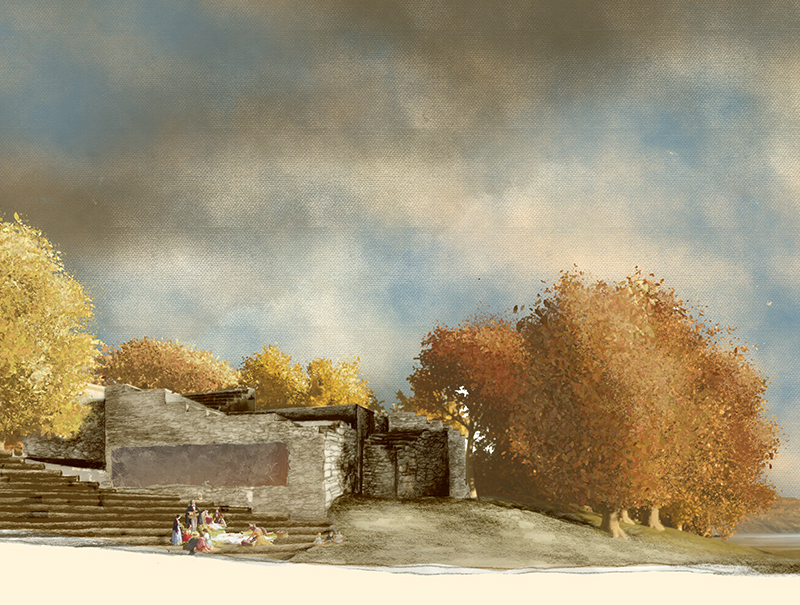 An impression of the Learning Centre as approached from the Boathouses on site.
This photo of the 1:200 model gives an idea of the initial approach to the building from the car park and coach drop-off points through the trees.