Emily Raymond
BA Fine Art & Design
'Design challenges are solution opportunities. Creative problem solving offers scope for great innovation and possibility. The breadth of design types that I have covered throughout my degree has enabled a greater understanding of design and encouraged versatility, leading to interests in graphic design, speculative design, and experiential design. This versatility has enabled me to approach each new brief with a fresh outlook for the desired style. For me, a designer's greatest tool is visualisation: the power to conceive ideas and demonstrate them to clients as plausible, to help demystify change. Beside using design for the greater good, I am also interested in the aesthetics of graphic design as these elements curate engagement with a specifi c concept. This is informed by my focus on colour theory and colour relationships within my art practice, complementing the design side of my degree. Over the course, I have used design to explore possibility, suggest innovation and seek alternative options within my projects, covering such social issues as loneliness or sustainability with future technologies in the fashion industry. I am excited by the future prospects of a design career and opportunities to grow the skills, knowledge and interests that I have developed during my degree to challenge myself in new ways.'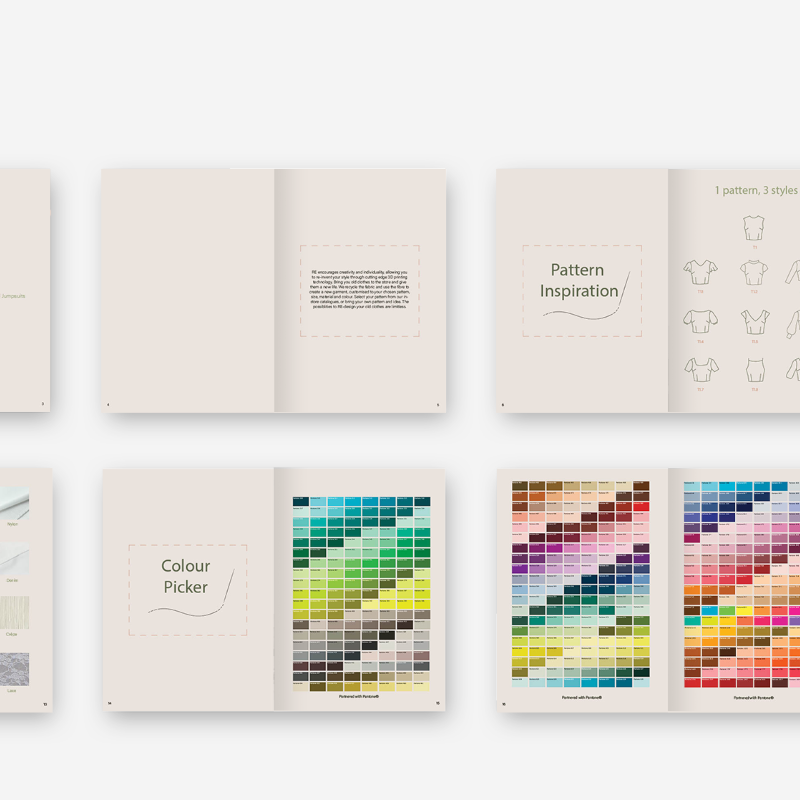 LICA344 Design Studio: Things
This project is based on Design Fiction, exploring the possible impacts of future technologies. Set in 2028, the company RE leads the 'Re-make it' movement, encouraging upcycling garments, using 3D printing technology. Their ethos originates from the "Make Do and Mend" propaganda generated during World War II. Combining advanced technology and the traditional sewing technique of using patterns, RE provides a fully customisable garment upcycling service, promoting a sustainable way to combat fast fashion. Customers bring unwanted clothing items to a store and either bring a found pattern or choose a pattern from one of the seasonal catalogues.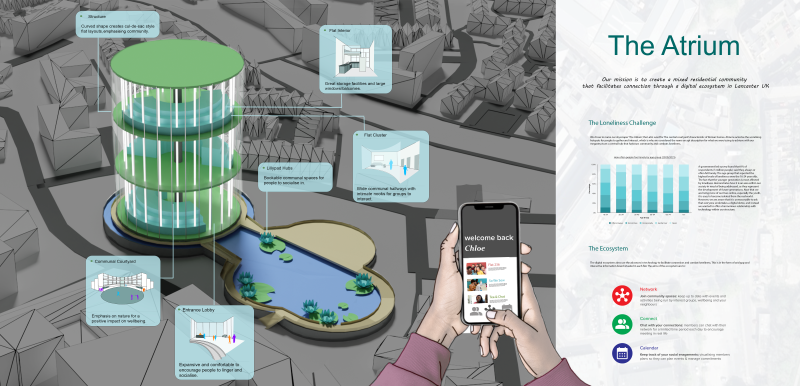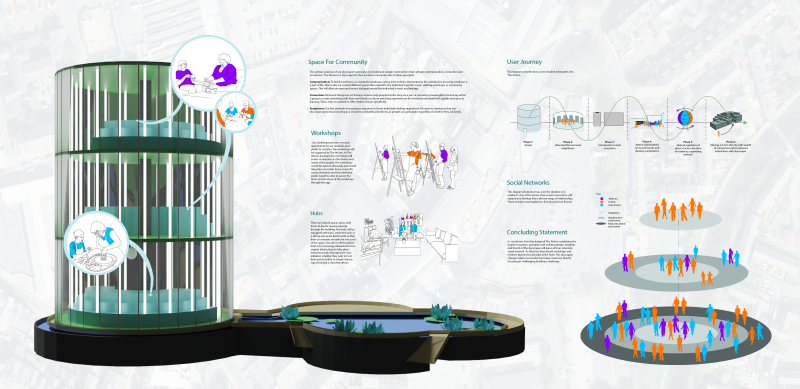 LICA343 Design Studio: Contexts
This was a group project with Victoria Wright, Elisa Murat and Alice Jackson, responding to the 2023 Evolo Skyscraper competition brief. The Atrium is a mega-structure designed as a central hub to harbour community and combat loneliness. 'Atrium' is the Latin word for 'central courtyard', the socialising and gathering area in Roman homes. The structure is formed by a residential area and community spaces with workshops and activities available to both residents and public. People new to the area or those who feel disconnected and lonely would use the accommodation to establish a community before settling elsewhere in the city.