Dom Fisher
BA (Hons) Architecture
'A villa landscape, slowly overgrown and dismantled by the decade, comprises a large part of our site at Fell Foot. The scattered and haphazard placement of existing buildings within its boundary results in an absence of any focal point, this being lost with the demolition of the original Georgian villa in 1907. With the soul of the site removed in that year, my mission was to poetically reinstate the lost villa (or perhaps its essence) with a centre dedicated to the Villa Movement of the Lake District. This would be situated directly above the foundations of the lost villa, tying together the surrounding fragmented buildings with the villa site. The centre's function is dictated by four briefs, incorporating summer, winter, daytime and nighttime uses. By day, the centre is a museum of artefacts of local and regional villa building. But on select nights of the year, the centre transforms into a hall of festivities, where parties and costumed balls are held. The living history of the villa is resurrected through an immersive performative experience. By day, a double-skin facade allows light to reflect from an inner wall which suggests the form of a villa. By night, this is reversed, and light punctures outward onto its outer skin. The project is theatrical, physically transitioning between the ordinary daytime world and a secretive, ghostly nighttime one.'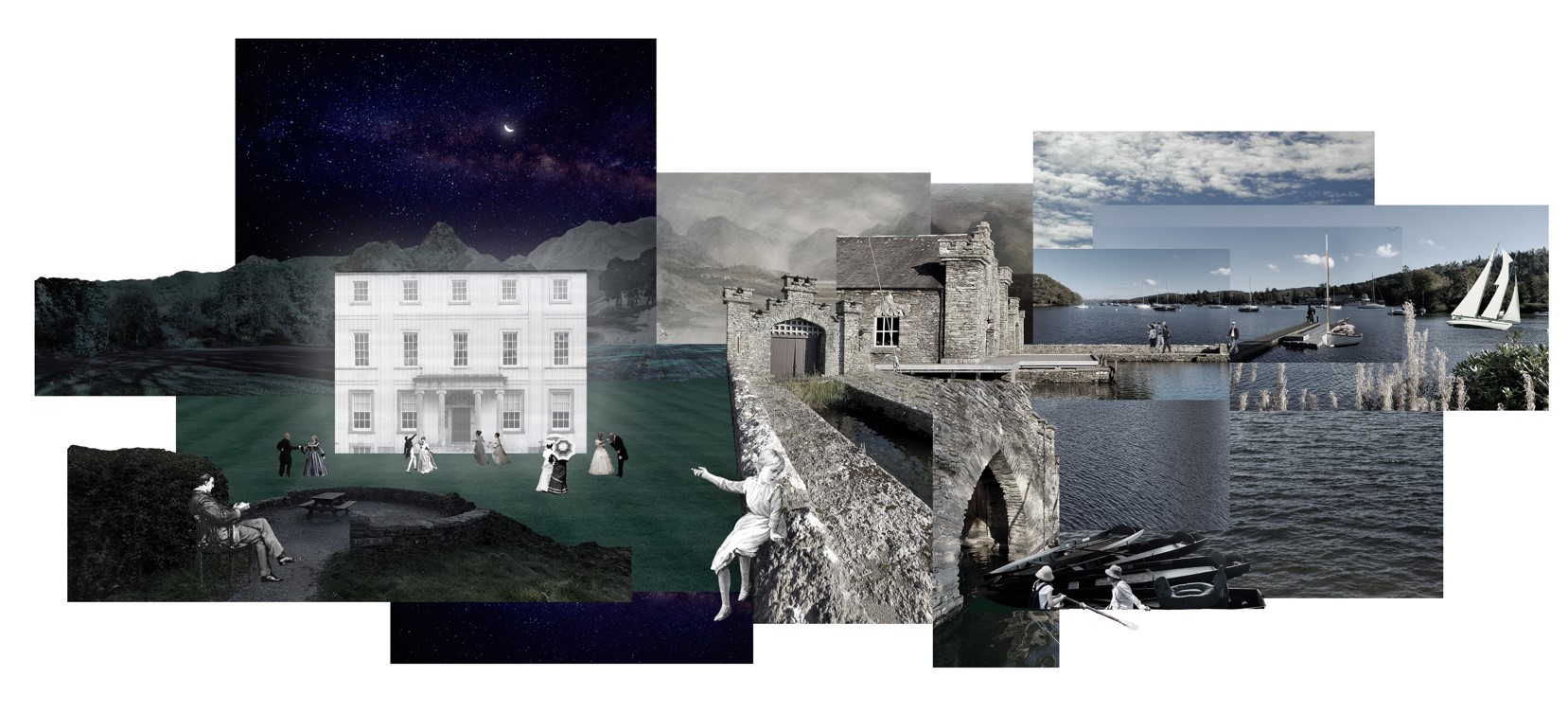 The transition from the daytime world to the nighttime one using the boathouses as a 'portal' between the two. The processional route begins with a boat journey along Lake Windermere after which guests prepare for the night's festivities in the boathouses. The original path to the lost villa lawn is followed, giving fleeting glimpses of the structure.
Initial impressions collage of the resurrection of the lost villa in its contemporary context, where present and historical worlds are overlapped.
The brief was extended to accommodate a museum to the villa movement during daylight hours.
At nighttime, the building's exterior glass curtain facade would be illuminated by a series of perforations within the structure's inner skin, suggesting the form of the lost villa, through which artificial light could puncture outward. At this time, performative festivities would take place such as balls and regattas.
In order to make the project feasible, AR technology could be implemented to give users an immersive experience of the museum, especially with regard to interior visualisations.
Historical analysis of the site of the demolished residences, now known as the lost villa lawn. The Georgian villa's original footings still exist beneath the lawn's level surface, with these being gradually infilled over the past century.