Ayomipo Odedina
BA (Hons) Architecture
'Fell Foot is a site with many trees and plants representing the Lake District's heritage and history. The learning centre will focus on restoring the site with new and modern interventions while bringing people and families together to learn about the area's history and its impact.
One primary intervention is re-wilding, creating a safe space for displaced species to return. The learning centre will offer workshops on gardening, tending to allotments, and creating different recipes from produce. Waste from gardening and tending to the allotments will be minimised by recycling them into ornaments or biofuel, and an exhibition highlighting the site's and Lake District's historical aspects will be displayed. Occasionally, seasonal lectures/tours on the area's heritage and trees/plants will occur. The landscape and garden can be viewed and explored as a leisure activity to boost social well-being and serve as an attraction, especially with the intensive roof garden emphasising the views of the Lake and gardens.
The learning centre has been constructed to blend seamlessly into the landscape and become a part of the site's heritage by utilising natural and locally sourced materials for the superstructure, participating in the growth of the local economy. As a result, the learning centre has been designed with adaptability in mind, ensuring better sustainability and the ability to repurpose the building in the future. To ensure the site's sustainability, trees will be planted to restore any materials used and maintain them as renewable resources.'
The stairs combined with a seating area within the foyer space that seamlessly connects both levels.
A tranquil area to both learn and appreciate the picturesque views of Lake Windermere and the surrounding scenery.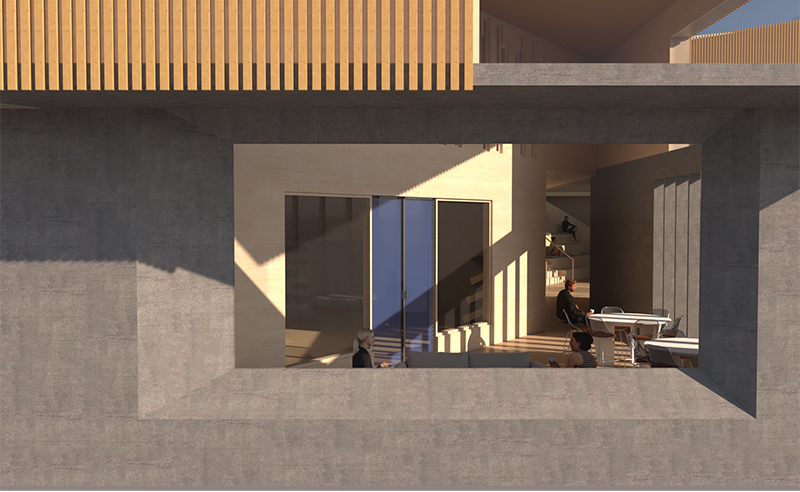 A glimpse of the dining and seating area visible from the outside.
An interior perspective within the shop revealing the dining area and strategically framed windows offering views of the lake and scenic surroundings.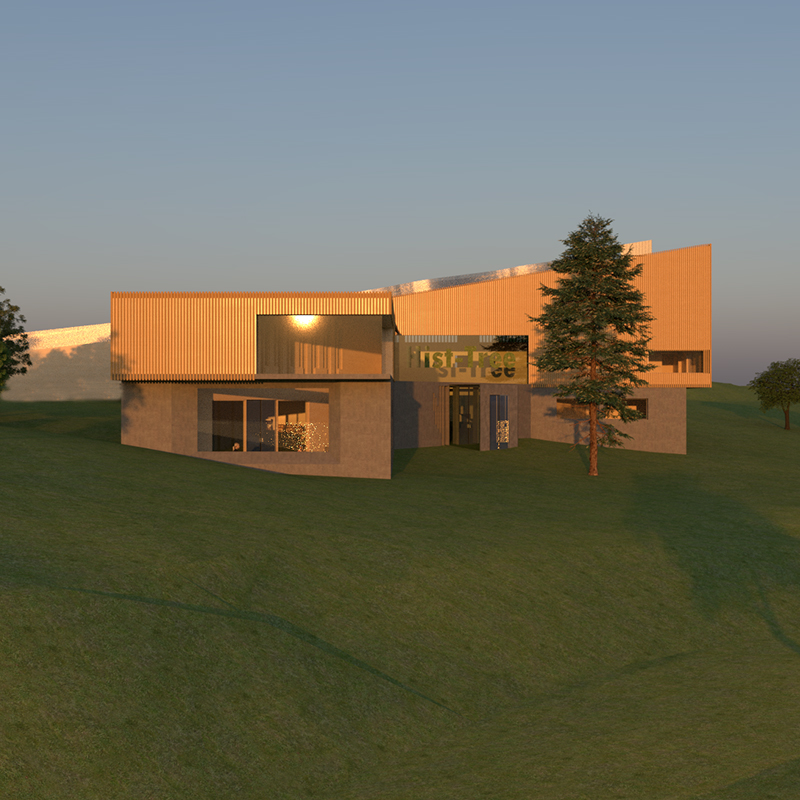 The view of the learning centre as you approach the ground floor entrance from the boathouses via the existing path.
The building viewed from site A1 (the Lost Villa Lawn), positioned in the expansive surroundings, featuring the green roof and offers an elevated vantage point to admire the scenic views of Lake Windermere and the surrounding landscape.